This week my editor and I get to pick the title for the 5th story in the Big Sky Country series. The first two books are already out.
The third is out in July.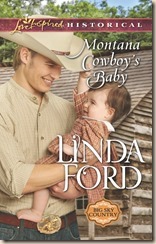 The fourth is to be released in Oct. 2017—Montana Bride by Christmas. (sorry, no cover yet)
Number 5 will be released Jan. 2018. If you recall, the series is about the Marshall family and the town of Bella Creek. In story 5, Annie Marshall's best friend, Carly, is given an ultimatum by her father who has been injured. He says he is going to sell the ranch she loves because she isn't married and he says a man is needed to run the ranch even though she has been mostly running it for several years. In desperation she goes to town to find a husband.
Sawyer has arrived in town to bring his orphaned little sister to her cousins only to discover the cousins have died.
Carly is prepared to marry a complete stranger in order to keep her ranch. Sawyer needs a family for the girl. So the two marry.
What do you think the story should be called? The editor makes the decision but I send suggestions.