PEEK-A-BOO IDEAS (AND CAT)
What do a cat and story ideas have in common?
My cat, Peanut, hides around corners. He hides under the footstool and pokes out his paws to chase a toy. He searches under cushions for toys.
I am working on a new series trying to plot out 6 connected stories. I feel like Peanut…searching under cushions, reaching out for an idea here and there. Hoping for something good to pop around the corner.
Much staring out the window or at the computer screen is involved as ideas churn and mutate.
By the end of the day, I might not have much to show for my work but I am exhausted.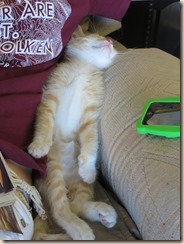 Yes. Peanut and I have a lot in common some days.
By the way, isn't Peanut a beautiful cat? I'm not a crazy cat lady but I'm saying…