Are we born creative? If so, is it criticized from us? Watching my grandchildren play makes me wonder if yes is the answer to both questions?
This is my four-year-old granddaughter playing with a box of cars and trucks.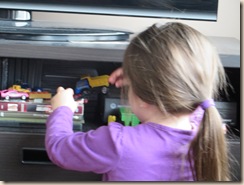 She has them lined up on the entertainment center. When I first saw her arrangement, I thought she was playing cars and trucks. Like why wouldn't I think that? But no, the cars and trucks were people and she was serving them juice then putting them to bed, all the while talking to them.
Creativity at its best. I wish I could recapture such pure imagination.