A few days ago I had the privilege of going to a Christmas concert put on in my granddaughter's school. They put on a musical called, Psalty's Christmas Calamity. The singing and acting were so good.
When I look back at the concerts I performed in I feel like I was a Christmas calamity. I hate being the center of attention. I'd sooner crawl into the woodwork, thank you. But each child had to have a speaking part. (At least I wasn't expected to sing. I have always been grateful I don't have a musical bone in my body.) I knew my piece perfectly yet I feared I would forget every word when the time came to say it before a crowd.
Finally the night came. It could not be avoided though in hindsight I wonder I didn't get sick and stay home. I stood before the audience the instructions blaring through my mind. 'Speak loudly' (we didn't have loudspeakers unless you count Ronnie who spoke very loudly). 'Say your words slowly.'
I swallowed my voice and rattled off my memorized piece so fast that I doubt even my own mother could tell what I said. Whew. It was over and I hadn't died though I didn't relax until it was all over.
The only good thing about the concert was the candy bags and the presents handed out afterwards. It was the first present of the season. Usually I got a book which was fine with me. It could be a book to read, a coloring book, a game book– I loved anything that came between two covers.
I still hate the idea of performing in public. And now I'm old enough and wise enough to say no, thank you.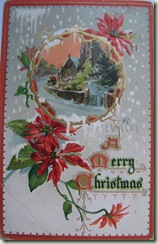 How many of you dreaded the Christmas concert? Or did you enjoy participating?
I wish for you a Christmas free of unnecessary stress (like performing in public) and full of enjoyment of family, visiting and celebration of the greatest gift–God become man and born in a manger.