Hot and dry winds descending mountain slopes are found around the world. In Alberta, theses snow-eating winds are known by their American Native name, Chinook. (Pronounced with a 'sh' beginning sound.)
Chinook is an Indian word that means, "snow-eater". The chinook winds can be a nice warming wind bringing instant spring in the middle of winter or a howling destructive windstorm. Chinook winds can raise temperatures by 25 to 35 degrees in minutes, melt snow completely, sandblast cars, collapse buildings and blow trucks off of the road
Over the years, I have heard many stories about how the Chinook came to be named. One nice story is found here. A Yakima Legend It tells of two warring factions–one that blew cold wind and one that blew the warm winds.
Another legend is told in wikipedia explains Chinook. A girl named Chinook Wind married Glacier and moved to his country in the mountains. She missed the warm weather and sent a message to her people. The wind is supposedly her breath as she calls to them.
The winds are especially strong on the open prairie.
As the authors of this excellent poem in a book say, 'If you're not from the prairie, you don't know wind. You can't know wind."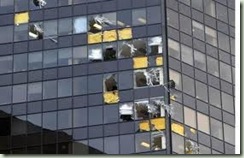 We have been experiencing unusually strong Chinooks the past several days. For example, windows have blown out of highrises. wind storm will show you more evidence of the power of the winds.
For awesome footage of an airplane landing in the windstorm watch this clip. aircraft 'crabs' while landing at Calgary
One last bit of trivia. During a Chinook, the sky is clear to the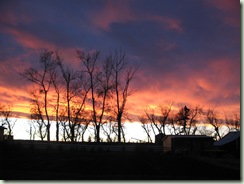 west and cloudy everywhere else. We see the mountains clearly. This picture doesn't show the mountains but it does show a nice arch.