YOU MIGHT BE A WRITER IF…
-You eavesdrop on a conversation and create a whole life for the people complete with problems and solutions.
–

You write ideas on scraps of paper and have bits of papers scattered through the house with ideas you've jotted down, or a turn of phrase you read and don't want to forget.
–

You read a story that doesn't satisfy you and rewrite it in your head.
– After you finish a story you've enjoyed you go on in your imagination to create more 'life' for them.
– Libraries are one of your favorite places. My friend might know where all the ladies stores are in any given town but I know the location of the libraries and books stores.
–

You have a feeling for words and sentence structure or are willing to learn it.
– You are willing to write, write and write some more in order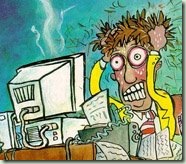 to learn the craft, hone your sill and develop your voice.
If you've decided you're a writer, hang on for an exciting ride.