I'm trying to be positive about the long, cold winter we're in. It's a great time to cocoon in and write. I've been doing so. Telling myself all the benefits of a cocoon. How a grub spends his winter there and emerges a beautiful butterfly.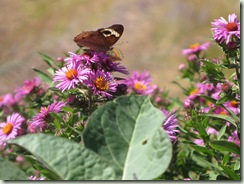 I figure the only thing I'll emerge as is a pale person squinting at the sun. 🙂
I guess I need to find something else to help myself think positive about the weather.
So I'll focus on my writing projects. Watch for upcoming releases.
Oct 2011 A Thanksgiving story in a collect called Once Upon A Thanksgiving. My novella is titled Season Of Bounty.
In Jan., Feb., and March of 2012 I have a three book series set the the Depression. It's about three sisters who are coping as best they can in the difficult times. The series is titled Three Brides for Three Cowboys and the books are The Cowboy Tutor, The Cowboy Father and The Cowboy Comes Home.
I'm busy on future projects so cocooning is okay for now. Sort of.