We have a neighbor who own a dog. A border collie. And we all know how much border collies like to chase, herd and work. A border collie without work is TROUBLE.
This dog is no different. With no cows or sheep to herd, he tries to herd the vehicles passing his driveway. I suppose he considers himself successful because the herded vehicle races down the road.
However, his timing is set for cows and sheep. Not vehicles. He's a menace to himself. And alert drivers. I've clipped him at least once but it doesn't deter him. In fact, the other day as I went to town, he came racing across the field determined to catch me. The only reason he didn't is because the deep snow slowed him down. That's not strange or unusual in and of itself but I learned the rest of the story when I got home.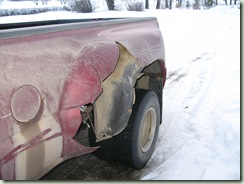 My husband says to me when I return home, did I see his truck? No. Didn't notice anything so went outside and this is what I saw. What happened?
The dog chased him, misjudged and barreled into the truck, tearing the fender half off. Oh. I'm feeling bad about the dog when…wait a minute. I went to town after hubbie. You mean to say the dog was still chasing vehicles with a vehemence after that? Yup. Dog okay. Truck not so much. $2700 worth of damage.This is either one lucky dog or one very stupid dog. Maybe both.