Happy New Year to all.
I love the New Year. I must be crazy but I like taking time to reflect on all the good things of the past and assess how I could change my life for the better. Yes, it seems that I am always wanting to change the same things–more exercise, better eating habits, a more balanced life–but I rejoice in the changes I've accomplished.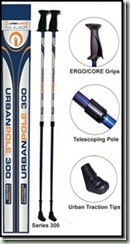 This year, for instance, I discovered Nordic walking poles. I really enjoy using these and don't care what people think. So far, I've had no comments. If you're interested in learning more, check out this site. http://urbanpoling.com/
I have also been a faithful attendee at Weight Watchers meetings and reached my goal weight. Yahoo. Weight Watchers has a new 'improved' program so my challenge this year is to learn how to follow those guidelines.
As to balance. Sigh. I don't know if I'll ever achieve it. At least not so long as there are only 24 hours in a day. And limited amounts of energy.
I hadn't intended to welcome in the New Year (at least not in local time.) However, events changed that. Youngest son fell on the ice early in the evening of New Year's Eve and sprained his ankle. A visit to the local ER and some xrays showed he had broken it. A spiral fracture on one bone (the small one) and muscles torn off on the other side. Means surgery to fix it which can't be done in our local hospital. It was after midnight by the time all the details were sorted out. He had to be moved to Red Deer where there is an orthopedic surgeon. I had to have him there by 8 a.m. New Years day. But there is a serious back log of people awaiting surgery so he is on 'wait.' Maybe today they will fix his leg.
So you might say we started off the New Year on the wrong foot (or at least the wrong ankle.) But I'm grateful it isn't worse. Yes, it's not nice but it will mend.
Happy New Year to us and you.